–
2016
Carved Boxwood
and sterling silver
–
BRIDGES BUILT IN SMALLEST HOURS
–
Employing a visual language of organic and simplified forms, I create objects onto which others may project their own unique experiences, memories, and emotions. Jewelry adapts to those who wear it, becoming transformed within the context of each individual. This body of work explores the emotional connections we form with inanimate objects, and the personalities imbued within them.
ABIOTIC
Current collection
This collection was inspired by a desire to reach a broader audience and to marry digital and traditional fabrication processes. Crafted from hypoallergenic stainless steel, this series is lightweight and effortlessly wearable.
BINARY RINGS
–
Despite geographic distance, computers and cell phones keep those whom I hold dear close at hand; binary code becomes the language of these relationships. This piece mirrors my experience of the digital; with black rings representing ones and silver representing zeros, each set of seven stacking rings is binary for the initial of a loved one.
KINETIC SERIES
–
This series of kinetic necklaces and earrings, crafted from fine and sterling silver, explores movement and the idiosyncrasies of the body. Each component in the quaternary system is hinged, creating a flexible web of interconnected parts.
–
2015
fine and sterling silver
–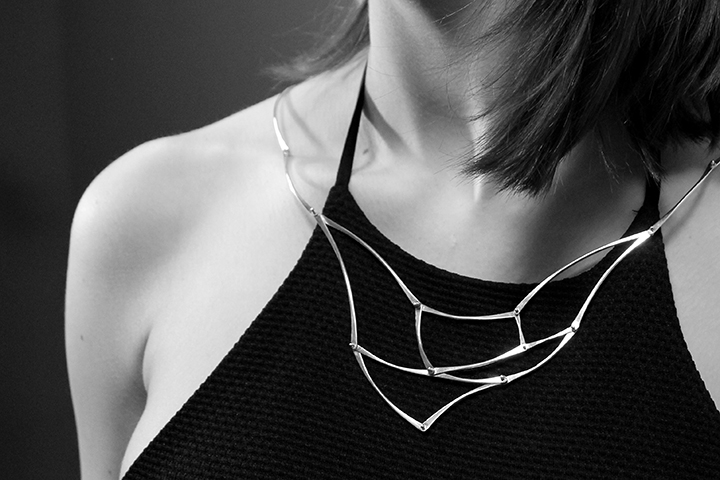 –
2015
sterling silver,
cz's, and black spinels
–
THRIVE
–
In craft, we often encounter only the final product of myriad iterations; this project illustrates my belief that each step is both vital and beautiful. Here, I explore systems. From a simple component I develop iterations which grow in complexity; these earrings trace the evolution of a thought.